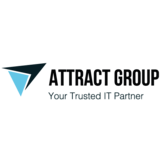 Attract Group
Mobile App Development
Web Development
Meade Ave 5 , Las Las Vegas, NV 89102 United States
+18883451224
Our mission is to help companies go digital at the lowest expense and help startups emerge as fast as possible. Our projects help businesses solve business goals by providing the most relevant solutions. Our team consists of highly skilled specialists in all branches namely web development, web design, project architecture, application development and IT Consulting.
Specialization:


Custom CRM and ERP systems;


Tailored solutions for custom web projects;


E-commerce and Internet Marketing;


Android & iOS apps;


AdWords and AdSenseAttractive Responsive Design, User Experience (UX) and User; Interface(UI).


Technologies:


PHP (Laravel);


Phyton/Django;


HTML5/CSS3, Twitter Bootstrap;


AngularJS, NodeJS, MeteorJS, JavaScript, Ajax, JQuery.


Cloud Technologies:
id 18994
---
0.1272 s DB
141 NDB
0.2276 s PHP
0.3548 s TOT
database SRC
22 mb CACHE